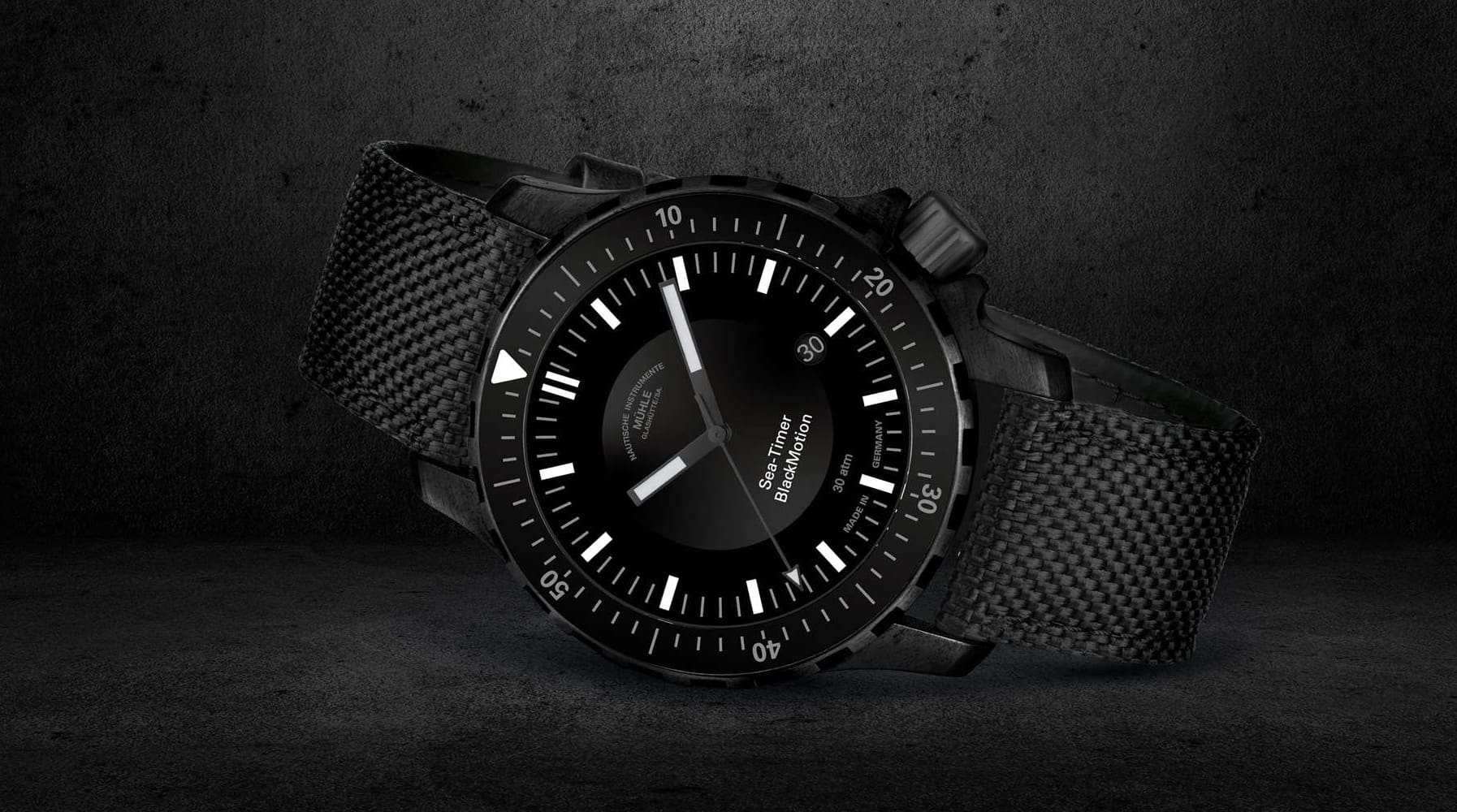 The Mühle Glashütte watch collection was inspired by the high-octane world of sports. The Mühle Glashütte watch line offers highly admired nautical timepieces as well as distinguished classic styles. The attention-to-detail is evident in every piece, as each one is designed to be a reliable chronometer with excellent readability and distinct personality. Some highlights of the Mühle Glashütte watch selection include impressive subdials, elegant finishes, bold contours, and durable wrist wraps. If you are looking for genuine Mühle Glashütte watches for sale, we can help. Exquisite Timepieces specializes in popular and limited edition luxury wristwatches. We can get what you need. Exquisite Timepieces is a Mühle Glashütte watch authorized dealer.
Get a FREE Watch Winder with your purchase of selected Mühle Glashütte watches over $2,000. Terms & Conditions »
Brand Review: Mühle Glashütte Watches - Learn about the History, Production and the Collections
Owning one of the Mühle Glashütte watches is an indication that you value artistry and appreciate the science behind these wristwatches. If you intend to showcase your style and personality, while enjoying the beautifully engineered wristwatches, then do not look further. Here is everything you need to know about Mühle Glashütte watches.
The history of Mühle Glashütte Watches
Founded by Robert Muhle in I869 at Glashutte, Germany, the internationally recognized company, Nautische Instrumente Mühle-Glashütte, continues to showcase its prowess in service delivery for 150 years now. It started as a precision measurement company for other watchmakers in the region, and as the business blossomed, the brand developed rev counters and speedometers for autos.
Later on, in 1994, the Mühle family-owned company commenced the production of the Mühle Glashütte horloges, marine timepieces, chronometers, and other nautical devices. This was leeway to the production of mechanical wristwatches.
Today, after five family generations, the primary company business involves creating nautical instruments and luxury wrist wears that have the highest quality finish.
How is a Mühle Glashütte Watch made?
Production of the Mühle Glashütte watches is procedural, and the team of experts works hard to make everything possible. This is facilitated by high quality measuring instruments, extensive care, craftsmanship, and passion for work. Read on to know the steps required before the Mühle Glashütte watches start ticking.
Design. The focus on design by a team of experts helps to come up with a watch that is not only unique but also straightforward. The move enables the wearers to feel comfortable and read the time without struggle. A good example is the elegant Teutonia Watch.
Parts manufacturing. Through the CNC machining centers, various parts get manufactured to meet the required standards of precision and reliability. workpieces, such as movement components generated from manufacturing, are now ready for finishing.
Finishing and decoration. Manufactured parts are accurate and ready for use. However, expert finishing by hand makes the parts appealing. Procedural finishing and decoration measures assure of watch aesthetic.
Assembly and regulation. It involves adding components until the movement is ready. The process requires a watchmaker to carry out both assembly and regulation in a comprehensive approach.
Final check. The final inspection focuses on checking the power reserve and if the watch complies with the standard accuracy values.
The steps focus on reliability, precision, and perfect readability. Now that you know the history and watch production, let's now focus on the types, categories, and collections.
Muhle Watches constitute of varying categories. In each category, the watches feature multiple styles that are reliable and practical. Although the design is simple, quality, luxury, and functionality guarantee satisfaction. The five separate categories include:
Nautical Mühle Glashütte Devices - They include the marine chronometers, clock systems, timepieces, and tide clocks.
Classic Mühle Glashütte Watches, e.g. M29 classic. The craftsmanship on these watches is on another level. The design has more to show than just time. It showcases your personality to the world.
Sporty Mühle Glashütte Watches - If you are an outdoor enthusiast, there are many sports watches for you. Besides, you will still find other watches like Teutonia II that have a sporty space. Majority of sporty watches feature:
Metal bracelets while some have rubber
Executive coloring with chunky cases
Subdials and additional buttons
Traditional Mühle Glashütte Watches - Ideal for those who value vintage that easily accessorizes your style. These watches constitute of:
Black or brown leather straps
Subdials
Elegant and clear faces
Blue, black and cream faces
Special Edition Mühle Glashütte Watches - These are watches launched during special editions and anniversaries of the Mühle Glashütte.
Price and Comparison with Other Luxury Watch Brands
Different Mühle Glashütte watches have varying prices tagged on them. Depending on your budget, and the watch you prefer at the moment, you will have to spend a considerate amount. Mühle Glashütte prices can either be low, mid-range or high end. Read on to understand the comparison.
The entry watches mainly features the traditionally designed wristwatches. They are elegant with simple sporting designs. The Mühle Glashütte Terrasport I Beobachter has a single dial face, brown leather strap, and precision time markers fixed on a creamy background.
The Mühle Glashütte Terrasport I Observer watch is a stainless steel modern version of Beobachter, and it consists of a slightly edgier coloring.
The Mühle Glashütte M29 Classic watch has a bezel and blackface is among the lower-priced sports watches you can acquire. The stainless steel case and strap makes the watch attractive and suitable for casual and formal occasions.
Mid-range Mühle Glashütte Watches
Mid-range Mühle Glashütte for sale watches constitutes of features and styles that are more advanced than the low range watches. Their features have specialized functions that you will be happy to see.
The stainless steel designed Teutonia II Tag/Datum has a formal finish that makes the watch elegant. Its face, date function, and display make it unique from other watches.
The swimmer's timepiece, Mühle Glashütte Seebataillon GMT watch, is a mid-range prized Mühle Glashütte watch. This Mühle Glashütte diver watch is water-resistant below 300 meters, has a rubber stray (to keep the timepiece dry always), and luminous hands. The bezel and luminous hands help in monitoring time in every condition.
High-end Mühle Glashütte Watches
These are the highest priced watches. They are made with a vintage touch but still maintaining the luxury features. These timepieces give value for your money, and people have used them across the generations.
The Teutonia II Quadrant is an ageless timepiece that has remained elegant for years. The square face and rich brown leather strapped watch adapt the traditional watch design. Compared with others, it has three sub-dials making it possible to have multiple functionalities.
Another watch is SAR Flieger. If you need masculine and a Mühle Glashütte chronograph watch with a modern touch, this red, and black coloring sports watch is all that you need. With the bulking bezel, metallic casing, and bracelet and function buttons, it guarantees elegant looks.
Other Collections of Mühle Glashütte Watches
Mühle Glashütte SAR Rescue Timer Watches
The stainless steel cased watch engraved with a black rubber bezel is waterproof to 1000 meters. The unique features that include the black dial, thick sapphire crystal (anti-reflective), magnified date window, and luminescent hands make it ideal for deep diving. Mühle Glashütte SAR has been in operation for long, and the German Maritime Search and Rescue Service have evidenced its efficiency. This Mühle Glashütte diver watch is a dependable timepiece for any seaman.
Mühle Glashütte 29er Watches
The Mühle Glashütte 29er wristwatches have the same design as those used in the boats. The only difference with the Mühle Glashütte 29er big is the case diameter. The precision used and design also resembles that of each other.
It is a stainless steel watch that has a brushed finish, water-resistant to 10 bars, sapphire crystals (anti-glare), a case back that is transparent, white or black dials, and screw-in crown.
It can appear with leather straps that have stainless steel buckle or stainless steel strap fixed with a butterfly clasp.
Mühle Glashütte Sea Timer Black Motion Watches
The Sea Timer Black Motion is an ideal wristwatch that you need if you are a sports enthusiast. The watch allows you to sport on or in water and any other outdoor activity. Its high quality arises from the titanium carbide coating, stainless steel material, the anti-glare sapphire crystal, and stainless steel case that gives the solid screw-in extra protection.
The coating boosts the resistance, increases the hardness of the steel case and gives your watch cool looks.
Mühle Glashütte Seebataillon Watches
See Battalion GMT was developed as a tactical watch for the Navy Sea Battalion. The watch model aims to protect the ships, soldiers, and the harbors both in and outside of Germany. With the Muhle Seebataillon in place, the navy carries out the embargo checks smoothly and thus keeping away pirates.

Mühle Glashütte Sea Battalion watches have double indices that ensure the watch is easy to read. This is boosted by the luminous material coating. Its excellent readability helps to save time, and the users can take immediate action when a need arises.
The automatic nature, titanium case, water-resistant to 30 bars, rubber that has stainless steel, and the anti-glare sapphire crystal are some of the features that make the watch efficient and long-lasting.
Mühle Glashütte M12 Watches
The automatic, sporty style watch belongs to the M12 sports series. Due to its stainless steel case that has a black screw-down crown case, the watch maintains its strength, and it will serve you for long.
The black dial, date calendar, Arabic applied numerals, luminous numerals, and the window display enhances the appearance.
Other than the stainless steel watch bracelet, the model is also available with a leather band. You need to weigh options during the selection. However, note the price varies.
4 Special Traits about Mühle Glashütte Watches, and why you need to Own One
The company utilizes the clockwork MU9413. Due to technicality and functionality of MU9413, which facilitates the in house woodpecker neck regulation, the output guarantees quality and originality of the timepieces.
The company has a long tradition of watchmaking and success stories. It is an independent and family-owned German company, and that means all the work tradition, ethics and success secrets get reserved within the family members.
Mühle Glashütte believes in in-depth research. Every watch model takes the time and effort of the watchmakers. Some like Mühle Glashütte SAR came into the market due to the involvement of the search and rescue personnel.
Quality regulation. The company tests every watchmaking material used, and the artistry is excellent. Most watches have a vintage touch, and such features satisfy you fully. Besides, they can survive extreme conditions.
The Bottom Line
If you have frequented the search engine trying to find out the history, production, and the Mühle Glashütte collections without getting a summarized and understandable results, this extensive analysis on Mühle Glashütte watches will solve your quest. The company has stood the test of time, and its raging positive reputation is now global.